Marta A. Silva, RN, BSN, Nurse Practitioner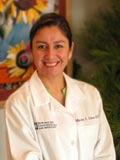 Marta Silva brings 10 years of experience and fluency in Spanish to the practice.
In addition to caring for patients on office visits for checkups and/or management of illness, she brings an emphasis on health promotion and maintenance to her work. Marta has been caring for OB/GYN and infertility patients in Tucson for more than a decade. She's a highly respected professional whose patients adore her!
A nurse practitioner is a registered nurse with advanced academic and clinical experience, according the American College of Nurse Practitioners [ACNP]. The ACNP says this training enables the Nurse Practitioner to diagnose and manage most common and many chronic illnesses. According the ACNP, "Working in collaboration with a physician, a nurse practitioner provides high-quality, cost-effective and individualized care for the lifespan of patient's special needs.
As a native Spanish speaker, she adds a tremendous comfort level to our patients who prefer to receive their care from a Spanish-speaking health care professional. While much of our staff is bi-lingual, Marta brings the added touch of a native speaker.

Caring for you, Caring for your heath & Caring for your future
5190 E Farness Drive #114 Tucson, Arizona 85712
(520) 326-0001