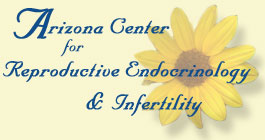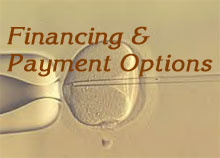 Though we work hard to provide high tech, cost effective care, we realize that the financial responsibilities of fertility treatment can be burdensome. Most insurance plans and HMOs offer only limited fertility coverage. To help you manage the financial aspects of treatment, we offer several payment options, including financing through your choice of two companies that specialize in medical treatment financing.
Patient financing was developed for people who don't want to tie up their traditional credit sources with medical debt or those who simply can't afford to pay out-of-pocket health care charges at one time. As these companies specialize in this area, they are more understanding of the patients needs than other types of financing.

amily Fee Plan is a flexible monthly payment option offered through AmeriFee. It is specifically designed for fertility treatments – with payments as low as $158 per month*.
No initial payment
Low, fixed rates ranging from 5.9% 0 12.9% APR
Low monthly payments
First Payment Not Due for 4-6 weeks
No prepayment penalty. Terms up to 60 months
You may apply quickly and securely via the web. Click on the logo below to begin the process.

If you prefer, you may apply over the phone by calling 866-733-3373

Health Ready provides a wide range of loan options, including:
ZERO percent interest for the first 6 months
12, 24, 36, 48, 60, 72, 84-month and revolving credit line payment plans.
Deferred payment plans for 90 or 180 days.
Interest Rates as low as 9.9%.
Financing for amounts as low as $600 and as high as $25,000.
Patient Financing without the wait or worry
Worried about qualifying for financing?  You shouldn't be.  Health Ready offers financing options for patients with all types of credit histories.  That flexibility allows us to provide financing to most patients who request it.  We welcome any questions you may have about your credit history.  When you apply for your loan, you also receive a comprehensive credit analysis.
Health Ready gives you the favorable credit terms you deserve.  Patients with excellent credit ratings who apply for financing through Health Ready qualify for extra-low interest rates.  Even patients with past credit problems can qualify for very reasonable rates. Health Ready offers fast approval that won't keep you in limbo.  We approve your loan quickly, so you can schedule surgery right away.  You can check the status of your application on-line. Applying is easy!

Insurance Coverage
Our staff will be happy to assist you in determining whether your insurance company will cover your treatment. If your insurance company does provide a benefit, our team will submit claims, or help you in filing your claims to get the most coverage that you are allowed for your examinations, testing and procedures. Call our office to discuss your insurance coverage amounts.
Caring for you, Caring for your heath & Caring for your future
5190 E Farness Drive #114 Tucson, Arizona 85712
(520) 326-0001